While former Czechoslovakia was considered a food self-sufficient country, area of today's Slovakia was the agricultural and food production powerhouse in the country. Thanks to gradual automatization and innovations, the modern food processing sector has maintained a strong position within the Slovak economy. Development activities in private companies take place in close cooperation with public research institutions such as the AgroBioTech Research Centre, the National Agricultural and Food Centre or the Faculty of Chemical and Food Technology at the Slovak University of Technology in Bratislava.
The food processing industry has a strong presence in all regions of Slovakia and produces a wide range of food products, from meat processing through bakery or dairy products to the production of various beverages.
SARIO constantly monitors the development in selected industries and prepares overviews in English.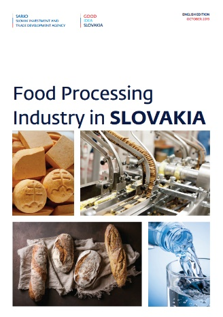 SARIO Food Processing Industry
[1]
(01/2022)