Slovak aviation industry builds on an old tradition of the Slovak inventions, such as a parachute and a helicopter. The modern aviation industry naturally follows up on it and is characterized especially by a strong base of light aircraft manufacturers and unique Slovak prototypes of gyrocopters, training simulators, components for the commercial aircrafts manufacturers or even flying car.

Although the space industry is rather a new sector in the Slovak economy, its economic and growth potential is significant. As the sector relies on strong technical skills, innovative performance and know-how that Slovakia possesses thanks to the developed automotive, machinery, electronics and IT sectors, increased focus on space industry is a logical way of gradual diversification of the Slovak economy.

SARIO constantly monitors the development in selected industries and prepares overviews in English. Data and information on Aviation and Space Industry are included in the Machinery & Equipment Industry overview (pages 13-16). However, regarding space industry, we have also prepared a separate brochure below.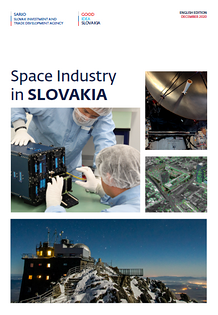 [1]
SARIO Space Industry in Slovakia [1] (01/2022)